EcoPlum Breaks Out BottleHood Eco Friendly Products for Home
by Gia Machlin, July 31 2012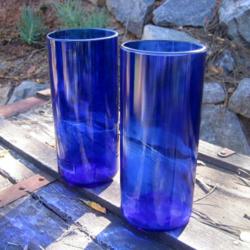 The variety of drinking glasses and reclaimed wood serving products are beautiful, unique, and very practical. They make great gifts.
New York, NY (PRWEB) July 31, 2012
Today EcoPlum, the green shopping rewards site, expands its online boutique with a unique collection of eco friendly products for the home by BottleHood. The new Home & Housewares section at EcoPlum launches with BottleHood's handcrafted glassware and wooden serving boards. These true American originals are made from reclaimed branded bottles and oak wine barrels. In August, customers purchasing BottleHood housewares at EcoPlum earn two EcoChipz rewards points for every dollar spent.
BottleHood repurposes its glassware from wine, beer, liquor, soda and water bottles, retaining the original bottle's glass, texture and brand names in its new upcycled use. The repurposed glass bottle products include items like small juice glasses, larger tumblers, vases, hors d'oeuvres plates, and bowls. The oak wine barrels are upcycled into serving plates, cutting boards, sushi and cheese trays and wine bottle holders. Some of the glassware and oak wine barrel products will be rolled out each week for the next month.
Gia Machlin, CEO and Founder of EcoPlum, exclaims, "I'm so excited to have this glassware collection in our online shop at EcoPlum. The variety of drinking glasses and reclaimed wood serving products are beautiful, unique, and very practical. They make great gifts."
Price points for the juice glasses and tumblers range from $10 to $20 for an individual item. Eco friendly gifts such as the Mr and Mrs Skyy Vodka pair and Mine and Yours pair sell for $40, while the Mixed Wine and Ale set of 4 glasses sells for $50. Other glassware pieces range from $15 to $35.
BottleHood co-founder Leslie Tiano had this to say about the benefits of what her company is doing, "It takes more than 4,000 years for glass to decompose, so burying glass is simply not a long-term solution. About seven million tons of glass bottles are wasted in the U.S. annually and only a small fraction are recycled, so most end up in landfill. Repurposing glass consumes far less resources than recycling, too."
BottleHood also focuses on sustainable production in making its glassware, using a unique, cold method process, rather than a more typical hot working process that emits toxins into the air.
As an eco friendly digital media and e-commerce company, EcoPlum specializes in stylish and unique eco friendly products and original articles about green living and environmental action. BottleHood handcrafted glassware is the first glassware line offered by EcoPlum in its new Home & Housewares section. During the month of August, all BottleHood purchases at EcoPlum earn double EcoChipz for customers who have set up a free account. Other products carried by EcoPlum include eco friendly clothing, safe cosmetics, fair trade jewelry, handbags, and many other green products.
About EcoPlum
EcoPlum® is the green shopping rewards site with eco friendly products and green living ideas that makes it fun, easy and rewarding to go green. Under its loyalty program, buying green at EcoPlum online earns EcoChipz rewards points, good for coupons in its shop or donations to environmental causes. Stylish and unique green products are carefully selected from vendors who earn third party sustainability certification, carry notable eco-labels, or make products primarily from recycled materials.
EcoPlum's mission is to foster environmental stewardship by informing, empowering and inspiring a community of people to be conscious of their daily habits, purchases, and impact on the world's limited resources. A trusted source for information on how to be green, EcoPlum earned the coveted Green America Business Seal of Approval in 2011, providing the highest tier "Gold Approved Member" status online at GreenPages.org. More information about EcoPlum®, Where it Pays to Buy Green®, is available at https://shop.ecoplum.com, via info(at)ecoplum(dot)com, on Facebook, and on Twitter @ecoplum.
About BottleHood
Founded in October 2009 in a San Diego barn, BottleHood was created out of a passion to help the environment and local economy. The Company has taken a stand on reclaiming bottles that have no California Redemption Value (CRV) out of California landfills. BottleHood produces a line of uniquely handcrafted, eco friendly glassware from recycled wine, beer, liquor, soda and water bottles and a variety of reclaimed wood houseware products from American oak wine barrels. For more information, go to http://www.bottlehood.com
See all BottleHood Products in the EcoPlum Online Boutique
Contact