EcoPlum Founder Talks Fair Trade and Eco Friendly Products on XM Satellite's "Green is Good" Radio Show
by Gia Machlin, July 31 2013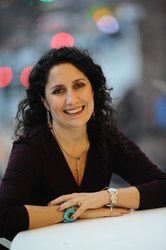 I am so honored to talk with John again about EcoPlum's commitment to Fair Trade.
New York, NY (PRWEB) July 31, 2013
Today EcoPlum, a green media and e-commerce company, announced its CEO and Founder, Gia Machlin, will be a featured guest this Saturday on XM Satellite's "Green is Good" Radio Show. The program is hosted by John Shegerian of Electronic Recyclers International. Gia's interview culminates a month-long focus at EcoPlum on fair trade and eco friendly products and she will discuss the critical importance of fair trade in selecting products for sale in the EcoPlum Online Boutique.
The Green is Good Radio Show airs every Saturday at 5pm EST, in more than 170 cities in the US and Canada on America's Talk XM, Channel 244, on SiriusXM Satellite Radio. The show also airs in the UK, China, and Taiwan. Gia will be one of three guest spots on August 3, 2013. The episode will be available subsequently at the Green is Good website (GreenisGoodRadio.com) and via podcast from iTunes.
Discussing the upcoming appearance, Gia noted, "John Shegerian is a respected force in the world of recycling worldwide. I am so honored to talk with John again about EcoPlum's green living articles, our selection of fair trade and eco friendly products for our online shop, and our unique rewards program."
Listeners of this segment may send questions and comments directly to Gia during the program by email to radio(at)ecoplum(dot)com. A one-time, 20-percent discount for a single-visit basket of purchases on the EcoPlum Online Boutique will be awarded to each listener who emails, with a validation code to be used at the time of purchase. The purchase must be transacted on or before August 31, 2013.
The online shop at EcoPlum features nine categories of eco friendly products including: (1) Fair Trade Jewelry, (2) Fair Trade Chocolate and Coffee, (3) Eco Friendly Clothing, (4) Ecochic Handbags, (5) Safe Cosmetics and Personal Care Products, (6) Sustainable Home and Housewares, (7) Green Kids, (8) Eco Friendly Journals and Notebooks, and (9) e-Gift Cards. Purchases of all products and e-gift cards at EcoPlum are eligible for EcoChipz rewards points.
EcoPlum is committed to all aspects of sustainability, including fair trade. The company uses the Fair Trade Federation label as one of their third party certification criteria for selecting products for its online shop. EcoPlum fair trade products from developing countries include jewelry from Bali and India, clothing from Guatemala, coffee and chocolate from El Salvador, the Dominican Republic, Ecuador and Paraguay. Recent green living articles on fair trade at EcoPlum include Chryso's Fair Trade Beauty Buys: "Globetrotting Edition" and Dede's Green Scene: "Chimes They are a Changing". Gia's most recent blog post about fair trade entitled "Fast Fashion has to Slow Down" was reprinted and featured on Triple Pundit and CSRHUB.
Green is Good is America's top environmental and sustainability radio show featuring business mavericks, entrepreneurial innovators, thought leaders, and nonprofit organizations that are making a green difference. John Shegerian discusses go-green initiatives, green-collar jobs, sustainability practices, environmental issues, recycling, reuse, and more with some of the green world's most influential people.
As Chairman and CEO of Electronics Recyclers International (ERI), John leads the largest and most efficient recycler of electronic waste in the world along with its subsidiary organizations, 1-800-recycling.com and urbanmining.org.
About EcoPlum
EcoPlum® is an environmentally focused media and e-commerce company specializing in stylish and unique eco-friendly products and original articles on green living and eco action. Under its loyalty program, customers earn green shopping rewards points called EcoChipz, good for coupons in its shop or donations to environmental causes. EcoPlum's products are carefully selected from vendors who earn third party sustainability certification, carry notable eco-labels, or make products primarily from recycled materials.
EcoPlum's mission is to foster environmental stewardship by informing, empowering, and inspiring a community of people to be conscious of their daily habits, purchases, and impact on the world's limited resources. We also believe it should be fun, easy, and rewarding to go green. A trusted source for information and products, EcoPlum earned the coveted Green America Business Seal of Approval in 2011, providing the highest tier "Gold Approved Member" status online at GreenPages.org. More information about EcoPlum®, Where it Pays to Buy Green®, is available at https://shop.ecoplum.com, via info(at)ecoplum(dot)com, on Facebook, and on Twitter @ecoplum.
Contact
Marcia Robbins
EcoPlum
1-888-730-9990
Ext: 101
marcia@ecoplum.com


Gia Machlin
EcoPlum
1-888-730-9990
Ext: 103
gia@ecoplum.com