EcoPlum Initiates Fair Trade Discussion with Its Readers
by Gia Machlin, July 01 2013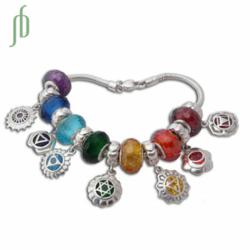 Since EcoPlum established its online shop a few years ago, we have always had a firm commitment to selecting companies with third-party eco labels and a commitment to fair trade practices.
New York, NY (PRWEB) July 01, 2013
Today EcoPlum, a green media and e-commerce company, kicks off a series of articles on fair trade with a profile on fair trade jewelry company, and EcoPlum supplier, Shanti Boutique. Shanti designs its mostly sterling silver jewelry collection in the US, and manufactures these handcrafted pieces in Asia-Pacific countries. The profile marks the first of several upcoming articles and social media discussion focused on fair trade, highlighting its critical importance to the sustainable business practices of companies that import products from lesser developed countries.
By initiating a discussion about fair trade principles with its readers and social media community, EcoPlum hopes to bring mindful consumption to the forefront. With the recent tragedy at the Rana Plaza clothing factory in Bangladesh, EcoPlum wants consumers to ask more about the origins of their purchases, including where the products are produced, who is making them, and under what kinds of conditions people work.
Gia Machlin, CEO and Founder of EcoPlum, exclaims, "Since EcoPlum established its online shop a few years ago, we have always had a firm commitment to selecting companies with third party eco-labels and a commitment to fair trade practices. Shanti was one of the first companies launched in our e-commerce shop for its strong adherence to the triple bottom line--people, profit, and planet."
EcoPlum is committed to all aspects of sustainability, including fair trade. The company uses the Fair Trade Federation label as one of their third party certification criteria for selecting products. EcoPlum fair trade products from developing countries include jewelry from Bali and India; eco friendly clothing from Guatemala; and coffee and chocolate from El Salvador, the Dominican Republic, Ecuador, and Paraguay.
Shanti Boutique is a member of the Fair Trade Federation, committed to providing fair wages and good employment opportunities for economically disadvantaged artisans worldwide.
EcoPlum's online boutique sells an extensive line of Shanti fair trade handmade jewelry, with its themes of well-being and peace found in many religions, along with particular stones corresponding to areas of the body for purposes of Chakra healing.
The online shop at EcoPlum now features nine categories of eco friendly products, including (1) Fair Trade Jewelry, (2) Fair Trade chocolate and coffee, (3) Eco Friendly Clothing, (4) Ecochic Handbags, (5) Safe Cosmetics and Personal Care Products, (6) Sustainable Home and Housewares, (7) Green Kids, (8) Eco Friendly Journals and Notebooks, and (9) e-Gift Cards. Purchases of all products and e-gift cards at EcoPlum are eligible for EcoChipz rewards points.
About EcoPlum
EcoPlum® is an environmentally focused media and e-commerce company, specializing in stylish and unique eco friendly products and original articles on green living and environmental action. Under its loyalty program, customers earn green shopping rewards points, called EcoChipz, good for coupons in its shop or donations to environmental causes. EcoPlum's products are carefully selected from vendors who earn third party sustainability certification, carry notable eco-labels, or make products primarily from recycled materials.
EcoPlum's mission is to foster environmental stewardship by informing, empowering, and inspiring a community of people to be conscious of their daily habits, purchases, and impact on the world's limited resources. We also believe it should be fun, easy and rewarding to go green. A trusted source for information and products, EcoPlum earned the coveted Green America Business Seal of Approval in 2011, providing the highest tier "Gold Approved Member" status online at GreenPages.org. More information about EcoPlum®, Where it Pays to Buy Green®, is available at https://shop.ecoplum.com, via info(at)ecoplum(dot)com, on Facebook, and on Twitter @ecoplum.
Contact
Marcia Robbins
EcoPlum
1-888-730-9990
Ext: 101
marcia@ecoplum.com


Gia Machlin
EcoPlum
1-888-730-9990
Ext: 103
gia@ecoplum.com