EcoPlum Sun and Fun is Better with Natural Healing and Sunscreen Products from Elemental Herbs for Summer
by Gia Machlin, June 28 2012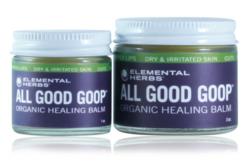 These products are best in class, as confirmed by the Environmental Working Group's recent sunscreen ratings.
New York, NY (PRWEB) June 28, 2012
EcoPlum, the green shopping rewards site, announced a partnership with Elemental Herbs, bringing its line of herbal, natural healing products to EcoPlum's online boutique. The environmentally friendly product line is EcoPlum's first foray into offering consumers a high-quality, affordable line of natural sunscreen, soothing balms, and healing moisturizers for the outdoors. Throughout July, EcoPlum customers earn double EcoChipz rewards points for buying Elemental Herbs at EcoPlum.
Elemental Herbs supports active lifestyles with herbal products that are as healing for humans as they are for the planet. The products are made with organic and sustainably sourced ingredients. They are free of both GMO's (genetically modified organisms) and petroleum. The Environmental Working Group (EWG) recently selected Elemental Herbs' sunscreens for its 2012 list of Best Beach and Sports Sunscreens, with a No. 1 rating.
Gia Machlin, CEO and Founder of EcoPlum, praised both the soothing qualities of Elemental Herbs and the company's overall commitment to sustainability, saying, "These products are best in class, as confirmed by the Environmental Working Group's recent sunscreen ratings. We also admire their commitment to organic ingredients, use of solar power in production, and no animal testing."
The products include All Good Lips™, organic lip balms; All Good Goop™, its signature organic healing balm that is a petroleum-free moisturizer; Herbal Cool™, a sore muscle spray; SPF 30 Sunscreen for sports and kids, and; SPF 30 Sunstick. Prices range from $7.99 to $15.99 an item. EcoPlum also offers Elemental Herbs' Healing Gift Box assortment with four items for $29.99, a large Herbal Healing Kit for $53.00, small Herbal Healing Kit for $24.00, and a Kids Camping Kit for $33.50.
Caroline Duell, founder and president of Elemental Herbs noted, "I have a passion for the outdoors and health and wellness, and am committed to making the best products for outdoor protection and a healthy environment. We're really happy Gia is offering Elemental Herbs' products online at EcoPlum and educating its readers, too, about organic products like ours."
EcoPlum columnist Chryso D'Angelo reviews safe cosmetics and skincare in a monthly feature, Chryso's Beauty Buys. Her monthly column is part of EcoLiving Ideas, an area of the site devoted to green living information. In this month's article, "Healing Moisturizer," she includes Elemental Herbs' signature petroleum-free healing moisturizer, All Good Goop, among other products. In an earlier article "Sunscreen Safety," Chryso evaluates Elemental Herbs' Sunstick Zinc Sunscreen, free of chemicals and fragrance, good for face, nose, and ears. All Good Goop and Sunstick Zinc Sunscreen are ranked as "low hazard" on a safety scale established by the EWG's Skin Deep Database.
EcoPlum adds this line of herbal skincare products for the outdoors, made in the U.S.A., to its offering of safe cosmetics already available in its online boutique. This line rounds out EcoPlum's selection of eco friendly products, alongside its popular eco friendly clothing, natural makeup, fair trade jewelry, accessories, and other green products for consumers.
Consumers set up free accounts at EcoPlum to earn EcoChipz green rewards points for purchases online. These points may be used for future purchases in EcoPlum's online boutique or donated to a number of environmental causes. In July, purchases of Elemental Herbs' products at EcoPlum will earn double EcoChipz. For every purchase, Elemental Herbs donates 1% of sales to fighting for social and environmental justice around the world, via 1% for the Planet.
About EcoPlum
EcoPlum® is the green shopping rewards site with eco friendly products and green living ideas that makes it fun, easy and rewarding to go green. Under its loyalty program, buying green at EcoPlum online earns EcoChipz rewards points, good for coupons in its shop or donations to environmental causes. Stylish and unique green products are carefully selected from vendors who earn third party sustainability certification, carry notable eco-labels, or make products primarily from recycled materials.
EcoPlum's mission is to foster environmental stewardship by informing, empowering and inspiring a community of people to be conscious of their daily habits, purchases, and impact on the world's limited resources. A trusted source for information on how to be green, EcoPlum earned the coveted Green America Business Seal of Approval in 2011, providing the highest tier "Gold Approved Member" status online at GreenPages.org. More information about EcoPlum®, Where it Pays to Buy Green®, is available at https://shop.ecoplum.com, via info(at)ecoplum(dot)com, on Facebook, and on Twitter @ecoplum.
About Elemental Herbs
Located in Morro Bay, CA and founded by Caroline Duell in 2005, Elemental Herbs® inspires people to live in balance with nature by offering herbal-based healing formulas including All Good Goop™ healing balm, All Good Lips™ lip balms, Herbal Cool™ pain relief spray, Sunscreen Sport and Zinc Sunstick™ sunscreens. Elemental Herbs, a B Corporation dedicated to social and environmental responsibility is also a member of 1% for the Planet and the Green America Business Network. The company endorses the Campaign for Safe Cosmetics and does no testing on animals. For more information: http://www.elementalherbs.com